What opportunities does 5G present for small businesses?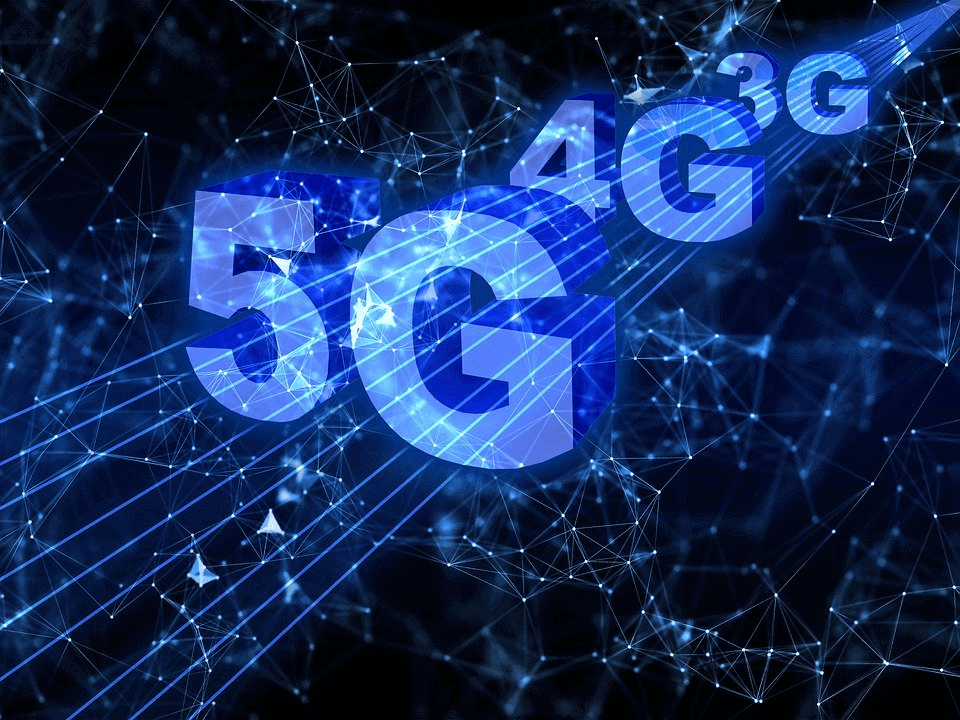 With the increased speed and reliable mobility provided by 5G, small and medium businesses will be able to leverage new opportunities in their industry and better meet the demands of their customers.
Tech savvy small and medium business owners are looking into what benefits 5G technology will offer and how these can be used to transform the way they operate, and more importantly what should they should do to prepare.
The power, bandwidth and speed of 5G certainly will certainly transform the way small businesses work and operate to become more resilient and competitive.
In their Mobility Report, Ericsson projects that by the end of 2025, there will 2.6 billion subscribers to 5G, consisting 65% of the global population and generating 45 percent of the world's total mobile data traffic.
Increased productivity and the emergence of new industries are one of the many advantages of 5G.
By allowing of new and existing technologies such as the Internet of Things (IoT), big data, autonomous vehicles, smart cities and augmented & virtual reality to reach new levels of potential, 5G has the ability to significantly boost the UK economy, directly increasing revenue for businesses.
A fundamental benefit of 5G is the speed at which data is transferred throughout the network will dramatically enhanced by 5G, allowing an enormous broadening in the use of internet linked devices.
5G small business opportunities
By 2025 5G technology may support as much as £3.5 trillion worth of products and services in industries such as education, entertainment, retail, healthcare and transportation, potentially sprouting new cottage industries driven by start-ups and small businesses.
This is why 4 out of 5 business leaders, analysts and technology professionals believe 5G will drive small business growth, with SMEs gaining increased productivity, efficiency and ease of access, forecasting SMEs to become more globally competitive.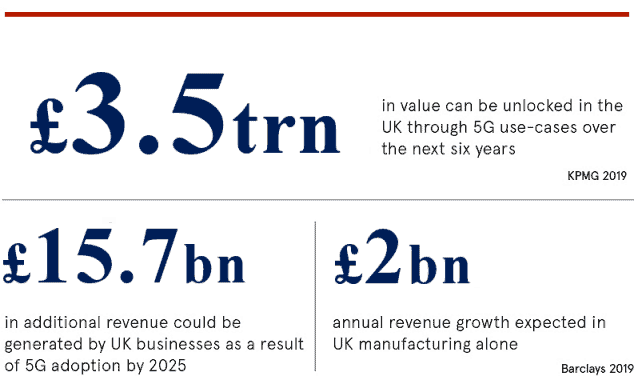 5G stands for "fifth generation".  5G is the latest advances in mobile cellular technology, offering a significant increased data rate.
With each iteration of mobile technology, we have seen significant improvement in the services offered, enabling users to become increasingly mobile.
1G is what enabled mobile phones to exist; 2G started the advent of texting; 3G enabled smartphones; and 4G LTE allowed for streaming.
Potentially, 5G will be up to 100 times faster than 4G and 2,000 times faster than 3G.  Only time will tell if those speeds are achieved.
It is worth noting, 5G will not replace existing wireless networks, but sit as another 'layer' on top which runs at much higher and faster frequencies.
5G aims to combine the benefits of 2G, 3G, 4G/LTE, wired technology and Wi-Fi into one platform that will provide density, high speeds and reliable connections at low power.
This means more information can be carried, enabling it to deliver lightning-fast speeds.
5G accessibility

May 2019 saw 5G officially arrive in the UK, with EE and Vodafone initially offering 5G plans.
However, whilst coverage is not widespread, 5G is now available in 87 major towns and cities via at least one mobile operator.
We're also still a long way off full coverage, it is anticipated 5G coverage will roll out to at least a further 18 major towns and cities during 2020.
Not just speed – benefits of 5G technology
Before moving onto the opportunities and benefits of 5G for small and medium businesses we have laid out the key features of 5G technology.
Faster Speeds
​5G is expected be significantly faster than previous generation networks – with speeds reaching as much as 100 times faster than existing 4G networks.
5G may offer speeds as fast as 10Gb/s allowing the ability to download a full HD movie within 10 seconds compared to 10 minutes on 4G.
Lower Latency
With lower latency, with 5G we will see less delay or lag when using our phones and other mobile devices.
On current 4G networks, the latency averages around 40-50 milliseconds.
5G will offer a significant improvement, offering latency around 10 milliseconds or less, which is likely to be undetectable to the user.
Increased capacity
​5G networks will be able to better cope with many simultaneous high-demand applications – from connected cars and IoT (Internet of Things) devices to virtual reality experiences and HD video streaming.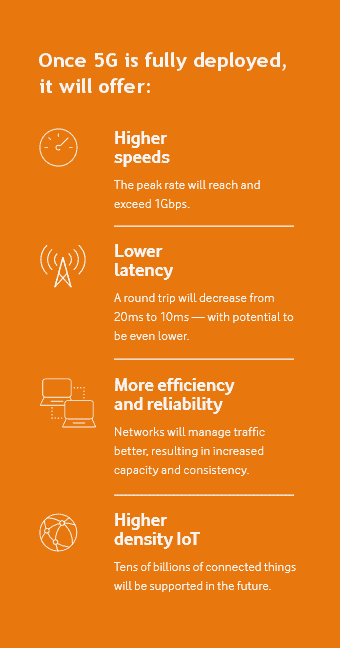 Reliability
​5G networks are expected to be ultra-reliable, resulting in a significant decrease in the dropped calls and connectivity.
This will increase the viability of 5G in more 'critical' use cases such as digital health and connected cars.
Flexibility
​5G networks will be more flexible, efficient, and agile to address specific customer needs.
By utilising "network slicing", the network operator can divide common physical network into multiple virtual networks or independent business operations in an efficient and economical way.
Which industries can benefit from 5G?
From remote surgery, self-driving vehicles to virtual reality and IoT, 5G creates tremendous opportunity for a number of industries and sectors.
5G will be a game changer for small and medium businesses across virtually every industry and is likely to disrupt many of the world's biggest industries:
Agriculture
Using IoT technology, enhanced by 5G, farmers around the world will be able to optimise agricultural processes such as water management, livestock safety & maturity monitoring and crop management.
Leveraging IoT, could provide real-time data for farmers to monitor and automate their agricultural systems, thereby increasing profitability and improving efficiency and safety.
Healthcare
5G's low latency will permit massive amounts of data to be transmitted without any detriment to speeds being experienced.
5G paves the way for patient health data to be sent to doctors in real time.
5G could also enable remote monitoring devices, such as wearable tech, to have a more significant impact on way and frequency we share data with health providers.
Low latency and improved speeds could also pave the way for remote procedures such as robotic surgery, which will rely on HD image streaming, low latency and high throughput communication.
Insurance
With more efficient data sharing, health and life insurers could make more informed and accurate decisions and provide tailored quotes for customers.
The increased quality and popularity of wearable 5G-connected healthcare devices would enable health insurers could offer "positive reinforcement" policies.
The era of 5G will see the introduction of autonomous and driverless vehicles.
Real-time data and reports could also be instantaneously sent to car insurance companies following a customer's accident, capturing crucial data such as speed, location, vehicle maintenance record, environmental factors and video.
Manufacturing
In a factory setting, 5G networks will offer the high bandwidth and low latency required for sustained augmented reality to support training, maintenance and repair.
It could further help manufacturers to enable "smart factories," leveraging automation, artificial intelligence, and IoT, ultimately becoming more flexible and efficient, while enhancing safety.
Supply Chain Management
5G-enabled IoT sensors installed on products would easily bring in real time a large volume of data to the fingertips of decision makers and managers.
Such data may include location, temperature, moisture, pressure, and any other information that may be critical to efficiently managing products in a supply chain.
The introduction of 5G IoT sensors into supply chains could lessen the losses due to manual inefficiency or misplaced containers.
As 5G technologies introduce more intelligent supply chain management, there could be potential for increases in production, streamlined logistical processes, and reduced costs.
Transportation
Vehicle-to-vehicle (V2V) communications enabled by 5G will connect public and private vehicles one another, roadside infrastructure, road traffic management systems and incident response systems changing the way people and goods travel.
5G technology will provide increased visibility and control over transportation systems, including public buses and private logistic fleets.
As 5G networks become increasingly prevalent, cities will obtain access to invaluable real-time data providing end-to-end visibility into transportation networks.
How will small and medium businesses benefit from 5G technology?
5G technology will allow SMEs to become more efficient by increasing their capability to accomplish more in considerably less time with fewer resources thereby saving costs and consequently increasing revenue.
A report from PSB Research, which surveyed business decision leaders, analysts and tech enthusiasts, found that as a result of 5G:
91% expect new products and services that have yet to be invented
87% expect new industries to emerge
82% expect small business growth and more global competition
85% expect it to make companies more globally competitive
89% expect increased productivity
Here we look at how small and medium businesses benefit from 5G technology and what opportunities 5G will provide for start-ups and small and medium businesses.
Remote working
Most businesses have been acquainted with the concept of remote working for over a decade.
However, the extra capacity provided by 5G could allow entire groups to be setup in remote distributed areas in a short time.
This could be useful for new sites where conventional providers are usually not viable, allowing a number of individuals to be connected to head office systems.
This will allow small businesses to test and target new markets and industries by quickly and cost-effectively setting up office or retail operations nearer to their target customer base for example.
Rural innovation
Many countries, besides the UK, are looking to leverage 5G to better connect rural communities, providing more opportunity for people to start, operate and grow businesses in rural locations.
For SMEs, this provides the opportunity to lower costs and bring new products to market by engaging with local rural suppliers to offer greater convenience, independence and choice for customers.
AR/VR
With lower latency and increased speed and reliability, 5G brings closer augmented and virtual reality applications.
These could have significant applications in a number of industries – particularly retail, property, entertainment, gaming, manufacturing and tourism.
Estate agents could conduct multiple parallel property viewings using virtual and augmented reality.
Small businesses in the construction, interior design and building sectors can help their clients visualise how their property will look once finished or collaborate with architects to review various design changes and finishes.
SMEs such as hairdressers, wedding florists, fashion retailers may be able to leverage the same AR/VR technology for their clients.
IoT
Most importantly, 5G will enable, enhance and empower IoT technology which are likely to include a wide array of applications difficult to forecast before 5G technology achieves significant coverage and some level of maturity.
However, at a fundamental level, IoT will allow the tracking, monitoring, managing, optimising and communication of a numerous devices to core public and private systems.
The internet has enabled companies (predominately comprising of SMEs) specialising in search engine optimisation (SEO) to create an a $80bn industry in the last 25 years – not to mention numerous relating cottage industries.
Similarly, it is anticipated that IoT, coupled with the benefits of 5G technology will provide opportunity for a number of cottage industries, start-ups and small businesses to flourish through the creation of services and products unimaginable before.
What is the current coverage of 5G?
5G networks are likely to cover one-third of the global population, representing 1.8 billion 5G connections by 2025.
Top countries with 5G include South Korea, the United Kingdom, Germany, and the United States.
The UK already has 5G coverage in over 140 towns and cities with further locations due to get 5G by end of 2020.
Globally, 7,406 5G networks have been deployed with devices available for consumers to purchase and use (207 of these networks are in the UK).
Whilst it could be 2022 or beyond before we have widespread 5G coverage in the UK, and we won't be seeing all the benefits of 5G technology all at once, 5G will likely be one of many major disruptive forces for businesses within the UK and worldwide in the coming years.