Omnichannel vs Multichannel Marketing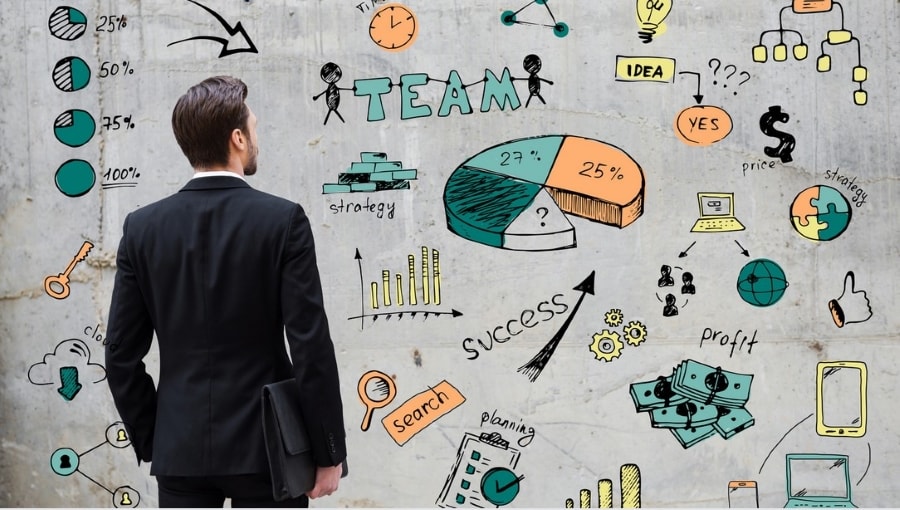 The terms' omnichannel and 'multichannel' are often used interchangeably. However, while they involve selling across multiple physical and digital channels, some crucial differences give them different functions. If you are aiming to grow your eCommerce business, it is vital to understand the differences between omnichannel vs multichannel digital marketing.
Below, we explore the ways in which omnichannel and multichannel marketing differ from each other and how you can choose the best strategy for your company.
What is Omnichannel Marketing?
Omnichannel marketing refers to the ability to provide customers with multiple connecting channels. However, it aims at delivering an integrated, interactive experience by bringing together these channels.
The goal is to streamline the experience as customers shift from one medium to another.
This approach intends to break the barrier between the online and offline worlds. It facilitates maximum customer engagement and a comprehensive experience across the channels.
While research suggests that companies can see up to a 90% retention rate with omnichannel marketing strategies, most admit that they are not prepared to reach their full potential in this area.
RELATED: Data-Driven Decision Making: Using Data Analytics to underpin Business Decisions
What is Multichannel Marketing?
This type of marketing involves interacting with customers through multiple channels, including websites, landing pages, mobile, social media, print ads, and direct mail.
Every channel functions independently from others and follows its own strategy. Multichannel marketing helps online businesses reach a wider audience through many channels.
The marketing channels in this strategy are entirely disconnected. Moreover, in this type of network, the customers can choose the channel they want to work with among the options available.
So, the channels generally compete with each other. As a multichannel marketing approach helps the brand boost engagement, they can better meet customer expectations and see revenue growth.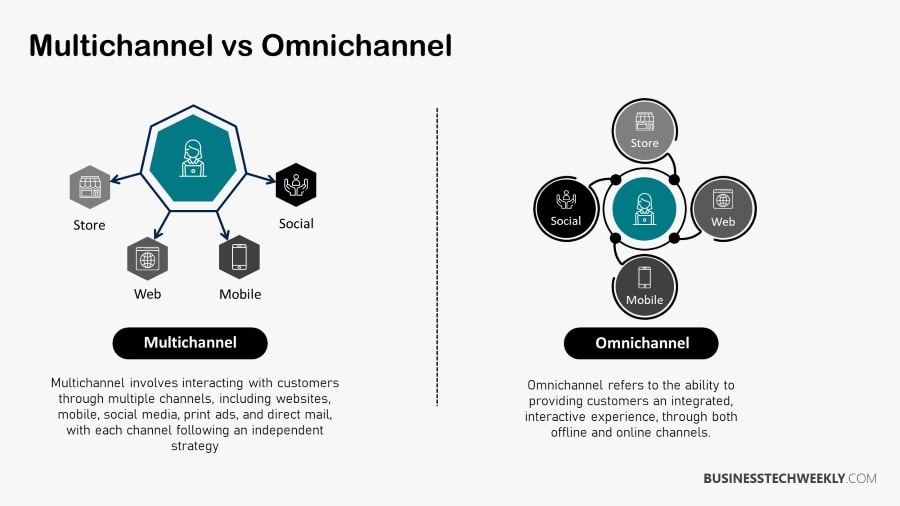 Omnichannel vs Multichannel – What is the Difference?
Let us discuss some significant differences between omnichannel vs multichannel digital marketing strategies.
Customer vs Channel
A multichannel strategy aims to spread the brand message across the available channels. The more, the better for customer engagement.
In contrast, the omnichannel approach focuses on customers, integrating the channels to engage with customers and provide them with a personalized, unified experience across all the channels. The goal is to build strong relationships with the customers.
RELATED: Thriving as an Ecommerce Store: Improving User Experience (UX)
Interconnected Channels Vs Disconnected Channels
Omnichannel is the most sophisticated marketing approach consisting of multiple marketing channels like other marketing methods. However, the channels are interactive and interconnected and allow maximum customer engagement.
In a multichannel marketing approach, the channels work in a disconnected manner and have no communication. When a customer moves to another, they start a new journey. This point is one of the striking differences between omnichannel vs multichannel marketing.
Consistency vs Engagement
An omnichannel marketing approach focuses on providing a consistent customer experience. On the other hand, multichannel marketing operates different channels separately, resulting in a lack of integration that fails to deliver a personalized experience, leaving the customers frustrated.
With an engaging experience through each channel, multichannel improves the customer-brand relationship. Marketers using these strategies should ensure all the departments are on the same page when conveying the message through different channels.
Personalization vs Generalization
A multichannel approach conveys the message to customers and encourages them to buy. The omnichannel strategy also does this but puts an extra effort into continuously learning about the customer.
It collects data from consumers to suggest areas that need improvement to deliver the desired experience.
RELATED: ECommerce: 4 Steps you must take for Growing your Ecommerce Brand
Effort vs Effortless
A multichannel marketing approach takes efforts to manage the channels available to connect to customers as more and more options are available today.
On the other hand, omnichannel is based on concepts and eliminates effort from customer experience and management. It focuses on identifying where efforts exist and how unnecessary measures can be removed.
Complexity and Cost vs Ease and Affordability
Another vital difference between omnichannel vs multichannel can be found in terms of cost. When you plan to implement an omnichannel strategy in your eCommerce business, it requires a good investment to integrate technology across the system.
The multichannel approach, on the other hand, uses disconnected marketing channels. So, it is often easy to work with them and is affordable.
RELATED: Conversion Rate Optimization (CRO) tips to Drive Growth
High vs Low Availability of Technology
The available technology for the two types of marketing approaches also sets them apart. Only a few technology solutions presently serve the areas of focus for omnichannel.
Multichannel marketing uses various channels based on different technology available to eCommerce businesses.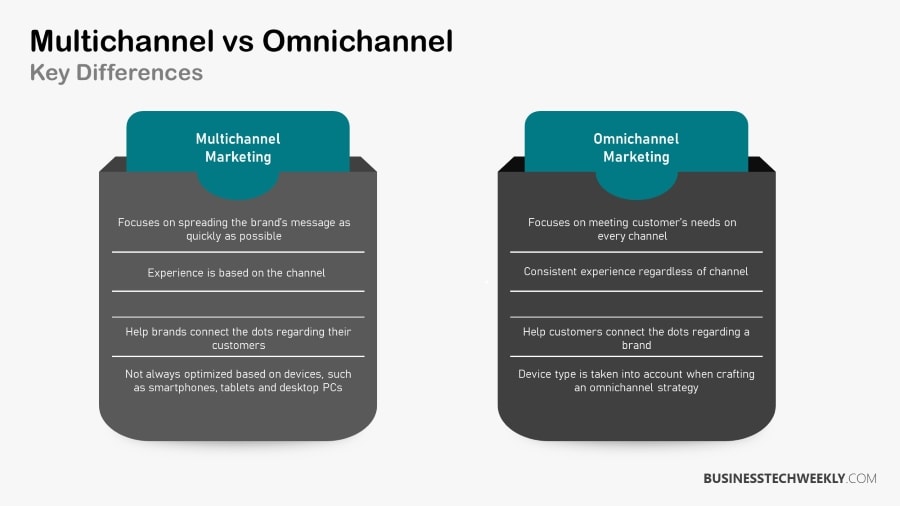 Omnichannel vs Multichannel – Challenges
Implementing multichannel or omnichannel marketing doesn't come without obstacles. Let's explore some of the challenges – omnichannel vs multichannel – when implementing these strategies.
Resource-Consuming
Whether you go with the omnichannel or multichannel route, getting started with such an approach takes some time, energy, and money. This is one of the primary challenges online businesses face when implementing either approach.
The initial investment increases with the number of channels utilized. The investment also multiplies as you become more functional on each channel.
To overcome this barrier, you should approach the strategies with a plan that covers:
What you will be doing during the approach
An estimate of how much money and time you are willing to invest
An idea of what you aim to gain in terms of money and other benefits
Without such plans, you likely run out of budget for ventures that return nothing.
Information Siloes
Two significant obstacles in ensuring omnichannel and multichannel experiences are isolated teams and siloed information. As the sales and marketing teams work across different channels, your eCommerce business operations can easily get disconnected.
The bigger the teams, the more serious is the issue. To overcome this, you should focus on:
Encouraging teams to remain on the same page
Facilitating internal communications
Using a common documented strategy and plan
These steps will help your teams better deliver the results and enable the company to understand what your customers truly want.
Getting Creepy
Implementing these marketing tactics poses a risk of becoming too omnipresent in your customers' lives without their consent. Most customers find the use of artificial intelligence and chatbots off-putting and invasive.
Though modern consumers are more accepting of new techniques, this is not the case always. The solution is to keep your customers at ease with personalization methods at different stages and gauge their comfort level as the personalized experience gets dominant.
GDPR Compliance
Though omnichannel approaches are considered better than multichannel and single-channel, it is vital to make sure you deliver such experiences with customers' consent, particularly when they are based in Europe.
RELATED: GDPR Compliance Technology
Keep GDPR compliance in mind when collecting, storing, and using customer data for your marketing methods.
Omnichannel Vs Multichannel – Which One is Better?
Looking at the differences between the two, omnichannel seems to be a better choice as it delivers a smoother customer experience. However, it is not so simple. Depending on your internet business, things will be entirely different for you, and deciding which strategy you should select can be confusing.
It takes comprehensive strategic planning before deciding which route you want to go. You can choose from – single-channel, cross-channel, multichannel, and omnichannel. Moreover, the difference between these approaches plays a vital role in deciding what strategy you implement.
With a multichannel approach, you are likely to use more traditional strategies. Each of the marketing channels has data that is not shared across channels. Your eCommerce business will need to gather data from multiple channels to understand how well each channel performs.
Because the approach is not integrated but disconnected, it is difficult to identify your customers buying on different channels.
Another important consideration is the difference between the two approaches regarding the number of marketing channels. ROI is also a deciding factor for online businesses.
Omnichannel is ideal if you want to continue improving customer experience and ROI. It takes more effort to plan and implement an omnichannel strategy, but it is all worth it in the long run.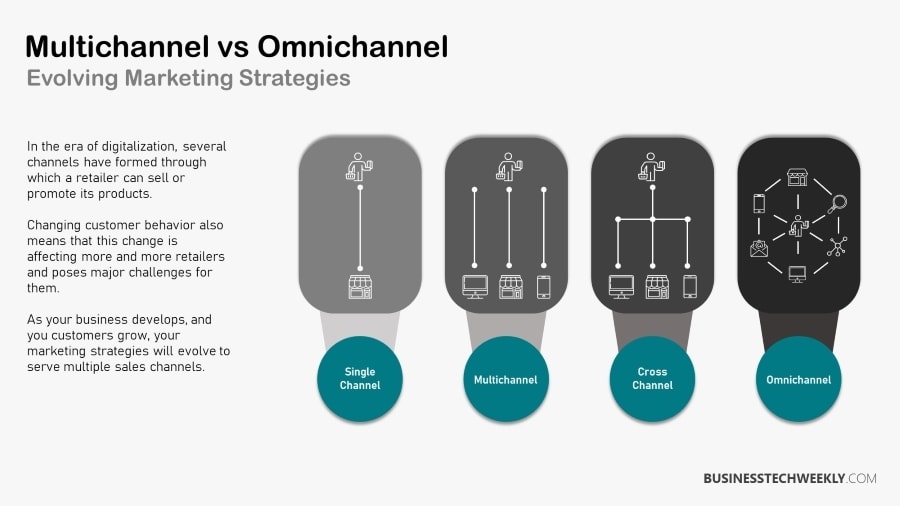 Omnichannel vs Multichannel – The Future
There are only a few retailers ready to embrace omnichannel. Still, the behavior and expectations of customers should encourage brands to invest in the technology and resources required to make it possible.
The multichannel approach will, in the future, present barriers to customers willing to decide their journey, thus driving them into the competition.
Whether you prefer omnichannel vs multichannel, the future will demand the flexibility to integrate new channels and solutions that bridge the gap between channels.
Implementing an omnichannel strategy demands new technology and methods. It cannot be left halfway, so online businesses can consider starting with a multichannel experience before moving to an omnichannel.
Omnichannel experience requires IT investment, infrastructure, and vision for proper integration. This approach is not ideal for you if you find it challenging to go ahead on this path.
A primary concern with omnichannel retail not found in multichannel is in-house resistance. Moreover, it is critical to share the vision and embrace the culture to understand the strategy of your choice.
The omnichannel approach is a goal for many enterprises, but they lag in adoption. It requires making adjustments at every step, so most brands prefer to get started with multichannel.
As many marketing channels are entering our lives in an interconnected manner, the multichannel method is getting outdated for most eCommerce businesses, giving place to omnichannel.
The discussion of omnichannel vs multichannel is a never-ending debate. As modern customers switch between new devices, it is no longer enough for internet businesses to have a presence on multiple channels.
Instead, they need a seamless, comprehensive, engaging customer experience spanning the digital landscape to be successful.