Are Password Managers Safe to Use?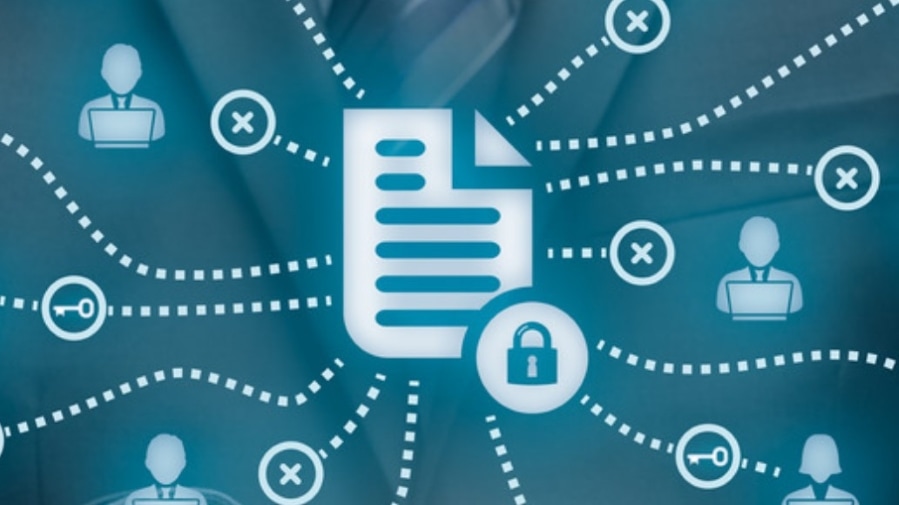 Password managers give you a simple way of managing many key phrases without memorizing them. But are password managers safe? A growing number of security experts are recommending such tools to safeguard your data and keep it out of the hands of cybercriminals.
What are Password Managers?
Password managers are a digital safekeeping system that uses the "zero knowledge" method. This means that the organization that operates the software or tool doesn't know your secret phrases themselves, which is critical because it protects you even in the event that the organization is hacked.
Many people have dozens, if not hundreds, of different passwords with various online merchants and websites. Mentally tracking it all isn't feasible, but storing it on your computer or a mobile device in a standard file with no security authentication is also dangerous because it could be hacked, or your machine could be physically stolen. A password manager takes all your secret phrases and conceals them within an application requiring a single password. Some also require dual-factor authentication.
Additional benefits of using password managers:
Convenient to use and readily accessible on most electronic devices
Allows you to use stronger passwords that would otherwise be too hard to remember
Hundreds of passwords can be organized into a single file that is accessible with one keyphrase
Uses state-of-the-art encryption to prevent data breaches
The Three Layers of Defense
Cyber security experts often speak of the "three layers of defense" in password managers.
These are the encryption of the user data itself, the inability of the system administrators to access it, and your security key.
In order for a hacker to access all your passwords, they would have to break through three barriers, which are extremely difficult and unlikely.
Data breaches have become a severe problem in recent years. Several incidents have occurred where hackers gained access to credit card companies, banks, or other large institutions, compromising the data of millions of people.
This, in turn, has led to class action lawsuits against these organizations. In other words, institutions can greatly benefit from password managers because even if they are hacked, each customer's data would still be protected.
How Password Managers Work
The top password managers use powerful encryption to shield your data from prying eyes, such as AES-256.
Some of these tools are also cloud-based, which means that even when stored on your smartphone, tablet, or personal computer, the master password will only be available to you.
Some devices even use digital vaults that are only accessible through biometric authentication. Examples of this include Touch ID or Face ID.
While many password managers are cloud-based, your master password will never be stored there. Password managers also give you faster access to your accounts since some will automatically fill out your username and password when you visit the website, saving you much time.
What Type of Password Managers are Available
Password managers come in different types. Understanding their features, encryption, storage, strengths, and weaknesses will make it easier to choose the best option.
Portable Password Managers
With portable management tools, your usernames and key phrases will be stored on either your mobile devices, such as a laptop or smartphone, or removable storage devices, such as hard drives or USB sticks.
The advantage of these managers is that they provide greater security and dependability than desktop-based systems.
However, the disadvantage is that if your mobile device is stolen, you could lose all your confidential info.
Stateless Password Managers
These management tools randomly generate your master key phrase and tag it by incorporating a key-based derivation function.
The advantage of stateless managers is that your passwords will never be stored in any database. The randomly generated passwords will use elements of your username, the site for which that password is designed, and the master code phrase.
The disadvantage of stateless password managers is that they do not offer a sync option and have greater vulnerability to a brute force attack.
Token-Based Password Manager
A token-based management system will protect passwords and usernames with extra security layers. Users will have to give login credentials, after which the security token will be transferred to the device.
The biggest advantage of using this type of password manager is gaining a much higher level of security due to the many authentication layers.
The disadvantage of using password managers, which are token based, is that they tend to be more costly than other management systems. They have greater complexity, which can make them frustrating to use for those who do not have a technical background.
Open Source Password Managers
Open-source managers also exist and are not owned by any single entity. These applications can store key phrases on servers or your devices. Some allow you to establish sync servers or manually sync with a database.
Open-source management tools are generally more complex and not as user-friendly. However, they are ideal for those who want something not controlled by any organization.
Can Password Manager Vendors be Trusted?
Trust is a significant issue when it comes to using these management tools. Even if the company claims that they will keep your key phrases safe without compromising them, who's to say that they won't perform a software update that enables them to capture your passwords, or perhaps there is a software exploit the developer isn't aware of that hackers can use?
This is why you must be careful about your password managers. Choosing an organization subjected to regular security audits is best to ensure they comply.
Most of these companies are honest and understand the importance of reputation in an industry where discretion is vital.
Leading Password Managers
The password managers listed were chosen based on their popularity, features, and reputation for providing secure password management solutions.
LastPass and 1Password are two of the most popular password managers on the market, with millions of users worldwide. They offer a wide range of features, including password generation, autofill functionality, and secure storage. They also have user-friendly interfaces and support various platforms and browsers.
Here are the four leading commercial Password Managers: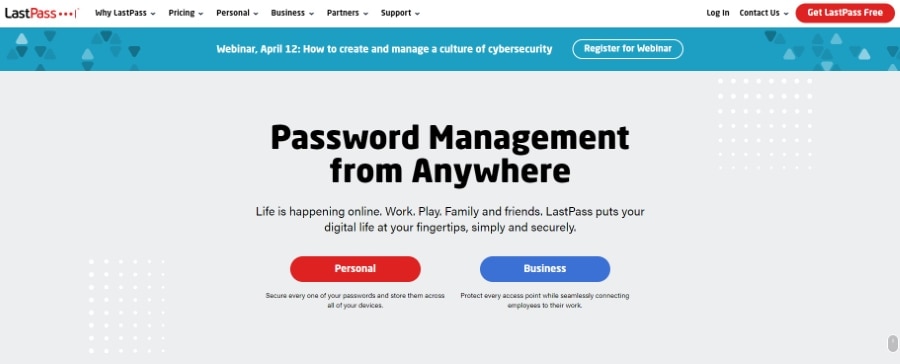 LastPass is a popular password manager that securely stores and encrypts passwords and allows users to generate strong passwords. A user-friendly interface is available on various platforms, including Windows, macOS, iOS, and Android.
LastPass offers free and paid plans, with the latter offering additional features such as unlimited sharing of passwords and priority customer support.
The software also includes a feature called "Security Challenge," which analyzes and rates your passwords based on strength and potential security risks.
Visit lastpass.com to learn more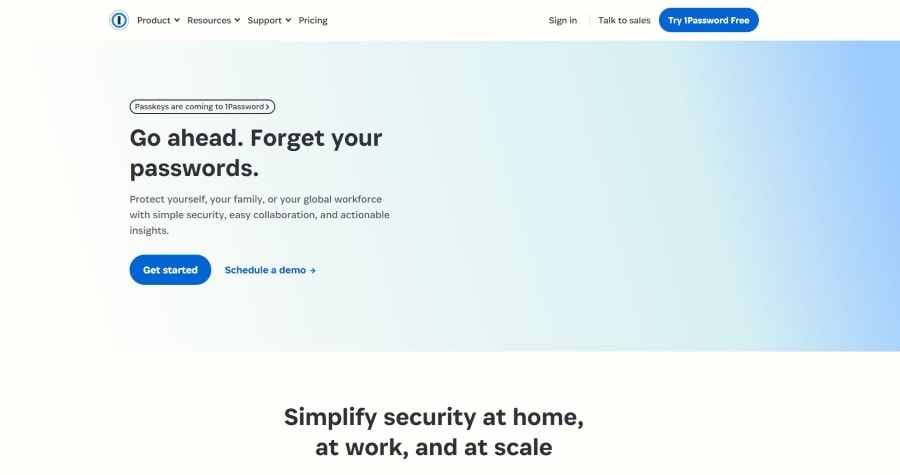 1Password is a powerful password manager that offers a wide range of features, including password generation, secure storage, and easy access. It also includes a travel mode allowing users to remove sensitive information when crossing borders temporarily.
1Password offers various subscription plans for individuals, families, and businesses, with different features depending on the plan. It integrates with various browsers and operating systems, including macOS, Windows, iOS, and Android.
1Password offers a browser extension for easy password access.
For more information, visit 1password.com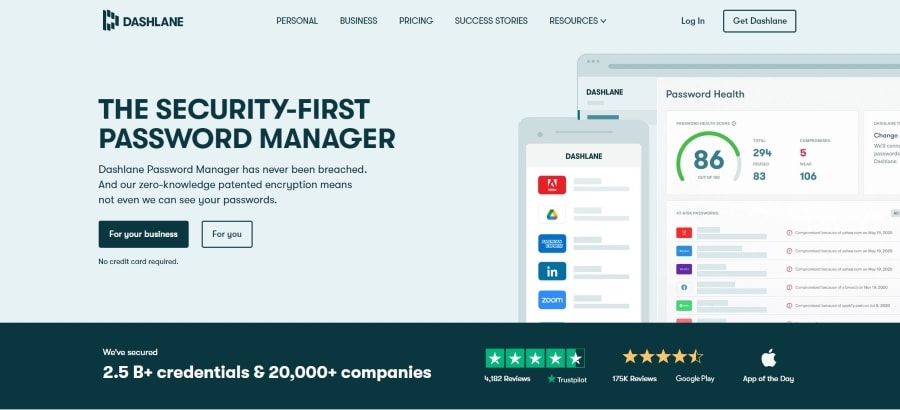 Dashlane is a feature-rich password manager that offers a robust password generator, autofill functionality, and two-factor authentication. It also includes a built-in VPN and dark web monitoring to protect users from potential threats.
Dashlane offers a free and a premium version, with the latter offering additional features such as unlimited password sharing and secure file storage.
It supports various browsers and platforms, including Windows, macOS, iOS, and Android.
Visit dashlane.com to find out more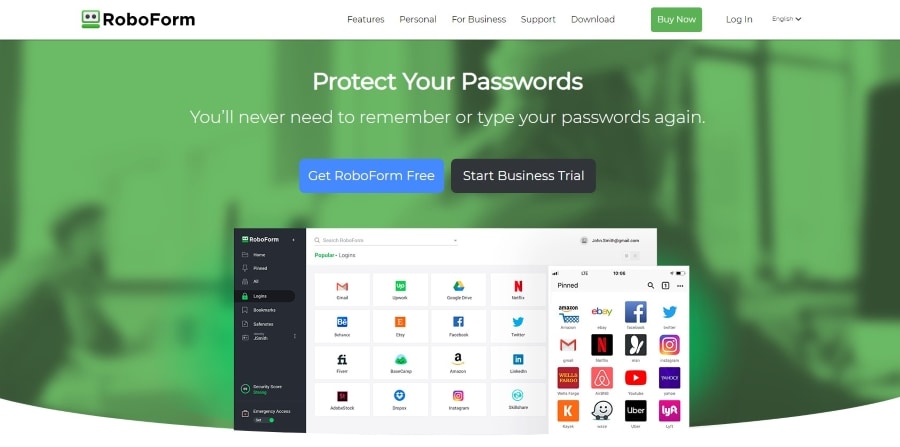 RoboForm is a password manager that offers a wide range of features, including password generation, secure storage, and autofill functionality. It also includes a digital wallet for storing credit card information and a password auditor that checks the strength of your passwords.
RoboForm offers various subscription plans for individuals and businesses, with different features depending on the plan.
It is available on various platforms, including Windows, macOS, iOS, and Android, and integrates with various browsers.
Learn more by visiting roboform.com