Shadow IT: Understanding the risks of Unauthorized IT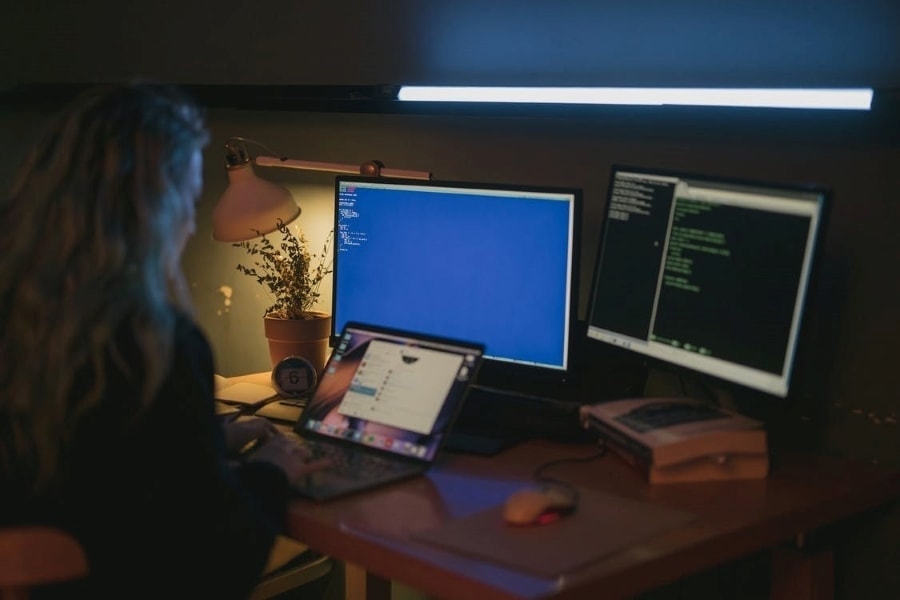 The unsanctioned use of IT, or "Shadow IT", is the practice of accessing programs and systems without the explicit authority or even their awareness.  Shadow IT Increases Risks of Data Breaches and Financial Liabilities, particularly as more employees work from home.
In business, shadow IT has become increasingly common due to the pervasiveness of cloud-based services and the popularity of hybrid cloud setups, leading to the situation being more likely to be worse than in the past.
What is Shadow IT?
Shadow IT is an umbrella phrase that refers to any technology, whether it is an application or a device (smartphone, tablet, laptop, etc.), that is implemented within a company without the approval of the IT department.
As a result, IT departments are frequently unaware that programs are being used by individuals or entire lines of business.
Typical shadow IT examples include:
Cloud services, such as SaaS, PaaS, IaaS
Off-the-shelf niche software
Hardware devices such as USB sticks, computers, smartphones, and tablets
Some of the typical types of applications identified as part of shadow IT are:
| | |
| --- | --- |
| Area | Example |
| Productivity | Trello, Slack, Asana |
| Messaging | Snapchat, WhatsApp |
| Physical devices | flash drives, external drives |
| Cloud storage | Dropbox, Google Drive |
| Communication | Skype, Zoom |
Most personnel who use unapproved solutions do so with good intentions – primarily to help execute their work more successfully.
Unfortunately, shadow IT is spreading because of the abundance of business and productivity software available and the simplicity with which these apps may be installed.
Staff can often become frustrated and take matters into their own hands because the procedure of obtaining official IT approval for new apps is arduous and time-consuming. The cloud and mobile are significant factors to the issue.

Shadow IT may not meet the security standards required by the business, which can lead to issues with:
Data protection: What is the location of the data? How is it safeguarded? Is it possible for the user to upload sensitive data to the cloud, where it may be leaked? Is the information encrypted? Who has access to the encryption keys? Can the user download malware-infected files and disseminate them to other team members?
Compliance: If the actual state of software is unknown, the company's compliance efforts may be futile. Will employing the service put the company in violation of industry or even legal regulations?
Software Asset Management: Licenses obtained without IT competence put the organization at risk, perhaps resulting in severe punishments. What effect do unknown applications and data linkages have on the meticulously built configuration management database?
Shadow IT Risks and Challenges
Security and compliance problems arise when the IT department lacks visibility into the IT hardware and software that employees and departments use, leading to several types of risk that need to be considered.
Here are five of the most severe shadow IT threats that any company should be aware of:
1. Gaps in Security
Shadow IT compromises an organization's security. Unauthorized or shadow IT does not go through the same security procedures as other supported technologies since the IT department has not validated it.
While some unsupported SaaS programs appear to be innocent, others may encourage sensitive data exchange among groups or call recording for transcription services.
Therefore, IT employees must know which apps are in use and how they may expose your firm to data breaches and other risks.
2. Potential breach of Compliance and Regulations

Shadow IT can have far-reaching effects for firms subject to compliance standards. Shadow IT introduces new audit points, necessitating the expansion of proof of compliance.
For example, if a healthcare institution's IT users store sensitive patient data in Shadow IT cloud storage systems, they may be compelled to audit, identify, and disclose the breadth and impact of each event.
In addition to exposing sensitive data to cyber-attacks, the firm may face costly litigation or fines for noncompliance, which might harm its brand name and revenue.
3. Disrupting IT Management Workflows

IT departments must develop a configuration management database (CMDB) to identify how systems interact with one another.
When an unapproved program or piece of hardware is introduced, it is unlikely to be supported or added to the CMBD because IT is oblivious to its existence.
Shadow IT can interrupt sensitive procedures that the IT department has spent months or years designing.
4. Ineffective Collaboration

Collaboration becomes inefficient when staff rely on separate applications from department to department.
What happens if one department utilizes Google Drive for file sharing and another utilizes Box when the two teams collaborate on a project? How often will a single document be posted, modified, and downloaded between the two services?
Minimizing the number to two or three enterprise licenses will make it easier to collaborate.
5. Lack of IT Insight

Finally, selecting the incorrect SaaS applications might significantly impact bandwidth and efficiency. If one team relies on a shadow IT software that fails, the IT department will not restore it because it lacks the essential knowledge and documentation. Consider the chaos that could ensue if a time-sensitive project is not completed on time.
Many third-party programs were never designed to be part of your infrastructure in the first place — at least not without the knowledge of IT — so when a significant upgrade arrives that does not work with your system, your IT staff may be caught off guard.
How to minimize the use of Shadow IT in your organization?
Fortunately, the IT shadow sea is not as hazy as it appears. The optimal approach consists of five steps:
Clarify the policy – Establish a clear policy regarding which devices, systems, and software employees are permitted to use. Communicate that policy to all employees regularly, not just once. Keep in mind that regular user education increases your first line of protection.
Gain visibility – Using a software asset management system such as the Ivanti IT Asset Management Suite, detect and catalog all software running in the business. This can combine compliance, licensing entitlement, discovery, and other features into a single interface.
Triage unacceptable risk – Perform a thorough examination of the hazards connected with unapproved applications. For example, McAfee MVISION, a cloud access security broker, protects data in real-time. Allow IT to control a protected desktop image with only sanctioned programs for tighter control with virtual desktop infrastructure products like Citrix XenDesktop.
Establish a baseline of acceptable applications – Recognize that there are likely many examples of shadow IT in your organization. The majority of them use well-known tools such as mail, messaging, conferencing, and massive file transfer services. Concentrate on the most popular ones and see if you can approve a subset of them.
Address functionality gaps with a long-term plan – Conduct a strategic usage pattern study. Recognize that the organization need a comprehensive set of tools and services to function efficiently.

Leveraging Shadow IT as an opportunity
Surprisingly, shadow IT is not without merit. Something that may appear to be shadow IT at first may present an opportunity for the corporation.
Organizations can transform shadow IT into a secure and usable armory of tooling that promotes disruptive innovation by understanding shadow IT, the needs and expectations of IT users, and the dangers involved with the practice.
Before it can happen, you must establish strategies that work toward the common goals of your organization as a whole. Support for new technologies, when done effectively, can open up new potential for enterprises to deliver better products to market faster and with less effort on the part of IT users at work.
Turning Shadow IT to your advantage
That is, the benefits of these solutions may outweigh the hazards associated with them. This is especially true for popular cloud-based applications. After all, if so many people are using a shadow software solution, it could be useful to a team or business as a whole.
As long as particular "shadow IT" fulfills your organization's security, redundancy, availability, and compliance rules, you might adopt the solution as part of Corporate IT, transforming it from prohibited to sanctioned.
This could result in the following advantages:
Storage and backups – Because providers guarantee storage and backups, the inherent services and operational costs are a fraction of those of on-premises storage infrastructure. In an Office365 environment, for example, a company may choose to store user files in OneDrive rather than on corporate-owned file servers.
Data ownership and auditing – Every file in a cloud environment has an owner and detailed metadata about which user shared it and its origin. Thus, auditing for accountability is guaranteed.
Data retention – Typically, providers provide a comprehensive track record that includes file creation and access.
Data classification – The majority of cloud-based systems support a wide range of classification tags.
Access control – By default, cloud environments allow you to specify user categories and enable authentication methods.
Encryption – Data is encrypted on the service provider's end by default.

Next Steps
Employees are continuously striving to accomplish their jobs as effectively as possible, especially when working away from the office. It is up to IT to develop secure solutions that make employees' tasks easier.
Shadow IT grows due to a lack of knowledge on the part of both the user and the IT department. Consequently, a wide range of tools are introduced into the organization without clear IT authority or awareness.
However, none of these situations considers control, administration, or security. Self-sufficiency is typically regarded as a virtue, but not when it jeopardizes the firm.
There is also the issue of application misunderstanding and oversaturation with shadow IT. Individual workers picking which messaging application or file-sharing service to utilize creates havoc.
Shadow IT is an issue, but it serves one useful purpose: it gives insight into what capabilities employees genuinely require.  However, IT must exercise control and governance over the entire application ecosystem. As is always the case, user education is critical.